Opening
It was my first of three full days in Pittsburgh, Pennsylvania, and a big one at that. The itinerary was like this: I would take a tour of PNC Park at 10AM, and get to PNC Park at 4:30 for batting practice and then see the first of three games. In between that I would be taking a lot of pictures, and see if I could do a cup trick off of the Roberto Clemente Bridge. But back to that in a minute.
The morning started off at 6:30am when I woke up at Hyatt Place North Shore. This is one of the best hotels for being close to the ballpark, and the only one that has views of the river and downtown as well. I left the hotel at 7:30 to walk around to take some more photos around the park, which I had already done a lot of the night before. To my surprise there were less people on the riverwalk then the night before, I suspected there would be some people taking morning jogs. But there seemed to be more geese than people.

Because there were so few people, I figured I would head over to the Clemente Bridge and try to figure out if doing a cup-trick off of it and onto the riverwalk would be plausible. Since it wasn't crowded, it might be my best shot all weekend. I didn't feel a great need to do it, and not that it would be a difficult thing to do, but I figured that it wouldn't hurt to possibly create some buzz around my blog within the ballhawking community. And it would be pretty cool to say I did the cup-trick off a MLB Landmark.
I staked out a spot at the north side of the bridge where it passes over the riverwalk, where you are able to rent kayaks and stroll along the Allegheny. I didn't kayak this time around, but it's definitely something I'd like to try in the future. It would also be cool to long distance kayak to PNC Park (the Allegheny River extends up to Western NY,) but back to the point at hand.
(This picture is taken from this staircase.)
I figured that I would be able to put a baseball on the concrete path and then lower my cup over it. And I probably would have been able to as well, except I ran into a problem. I had been using a new cup that wasn't weighted down as much as the one that got me a ball in Citizens Bank Park in June. So I would have to can my cup trick as a whole for this weekend and make some improvements when I got back. Oh well.
Now I have to add two things to my baseball bucket list:

Go kayaking on the Allegheny River.
Re-attempt the cup trick off the Roberto Clemente Bridge.
As I was packing my cup-trick back up at about 8:20, I got a text from my group that I needed to get to breakfast. So I dead sprinted back to my hotel, and promptly eat a great, big, continental breakfast. (Always eat as much as you can when it's free.)
After that, I headed back to the hotel room before heading off to the tour. On my way there I got a photo of Honus Wagner and I.

We kept walking past the third base side of PNC Park, and I took some pictures of a guy who hit the first home run in Shea Stadium,
Willie "Pops" Stargell…

…which was in front of the Left Field Gate where we would start 10 o'clock tour.


My first steps inside PNC Park:

They first take you to the Left Field Bleachers where you can take photos of an empty ballpark before the tour officially starts.


The tour started with a look at PNC Park's Negro League Museum. It was built in 2006, making PNC Park the first park to formally honor the Negro Leagues. It was fitting, because the Negro League powerhouse Homestead Grays played only a 15 minutes drive away from where the Pirates play ball today. They also played at the Pirates' former homer, Forbes Field, where players like Josh Gibson, Cool Papa Bell and nine other future Hall of Famers showcased their talents during Major League Baseball's darkest days (racially, at least.) You can view the museum at any time after the gates open.
We were then taken to a hallway of where all the behind-the-scenes activity takes place. As we walked through the hallway, we passed by Clint Hurdle's office. Our tour guide, who was very kind and intelligent, told us that Hurdle will often come and say hello to the groups touring as he goes to and from his office. Since it was a game day, we weren't allowed into the Pirates clubhouse, but the Pirates substitute it with a video tour of the clubhouse. It was kind of disappointing that we couldn't go into the clubhouse, but I can completely understand because players and coaches would be arriving in a couple of hours. We then headed to the batting cage…

To inspire their players, the Pirates have a sign listed of all the batting titles they have won outside of the batting cage. Honus Wagner definitely owns this list.
After that, we headed to the best part of the tour. The field! Here are some shots I took from the dugout.

Then we got to walk out on the warning track and dirt path near home plate, but not on the grass.


I really like this picture I took. I love how it details the blades of grass and the dirt, but also picks up the skyline in the backdrop.


The view towards the backstop. The man in the seats is one of the many people who were cleaning throughout the park. None of them had uniforms on though.

The dugout:


A photo of me on the field.


Then we headed up to the press box, which was also a great photo opportunity for the great views that PNC Park offers. I regret not taking any pictures of the actual press box, which was nothing fancy, but I didn't because my entire tour group was sitting in the press box. I wouldn't want any of them to show up in one of my posts, not that they would even care if they did stumble upon themselves.
Anyway, here's the photos:


After the tour, my group headed back to the hotel, and I charged my cameras so they'd be back at 100% for game time. We called a taxi and ate a great lunch at a very cool place that's no more than 10 minutes from PNC Park. It's called The Church Brew Works, and it was a Roman Catholic church built in 1902 that closed down in 1993. It was converted into a brewpub/restaurant. It was pretty cool looking around and seeing all the stained glass. All the booths were originally pews that people sat in back when it was called St. John the Baptist Church. I took a photo of it, but it came out blurry because of how the restaurant was lit, so an image from "theaposition.com" will do.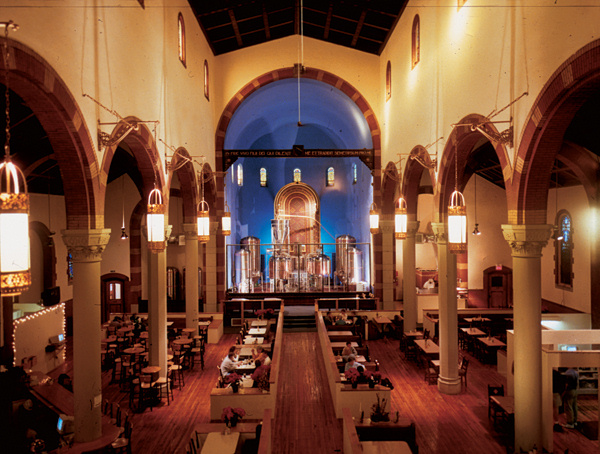 I like how they kept a lot of the features that it formerly had. I can definitely imagine a Sunday mass going on in here. Because of how they restored it, the Church Brew Works is now a city landmark. I thought it was funny how they showcased their brewery right where a statue of Jesus probably was before. Some people really worship their beer.
One thing that surprised me is the amount of Mets fans that turned out to Pittsburgh. As he was walking in, a Mets fan shouted out to me "Lets go Mets!" and the hotel I was staying at was FILLED with Mets fans coming from out-of-town, and I bet the other ones were too. A few of the fans I talked to were from New York City, but I imagine that it would be an easy drive to Pittsburgh for Mets fans from Western New York.
I headed back to the hotel and it was almost approaching an hour before the gates would open at 4:30. I needed to get a season ticket pass to be allowed into the Left Field Bleachers before the general public would at 5 o'clock. Robbie "Scoonz" Sacunas decided to be awesome and dropped his off the night before at the front desk. I stood in line behind a person checking in, and told the man at the front desk (who was short and had glasses) that somebody had dropped something off for me the night before. He then — probably because of my age — laughed and said "I'll get to you in a minute," before waiting on a guy who was also checking in. I felt really disrespected by the guy. It would have only taken 5 seconds to get the envelope with the season ticket pass out from below the front desk, but he went on for about 5 minutes checking in the next guy before I decided to switch lines. I was then promptly given the season ticket pass upon asking by a taller young man with glasses who was very nice to me. That's the only grudge I have with this hotel, but Robbie also said that they made him wait a long time and fill out stuff when he dropped off the pass. Enough of that… off to the game.
I headed off to the game less than ten minutes before the Center Field Gate opened, which was okay because of my proximity to the park. I got in quickly and got the yellow Pirates shirt that they were handing out as a giveaway. I got to the left field bleachers and met Pittsburgh ballhawk Erik Jabs as well as Robbie Sacunas. I thanked Robbie for lending me the season ticket pass, meanwhile Erik Jabs was being a baseball-magnet.
There was some action during Pirates batting practice, but I did underestimate the competition. The bleachers are easy to navigate for the most part, but all three games I went to were sold out. I can definitely say that Pittsburgh has the most competition ballhawking-wise than any park. There are parks where you won't see any ballhawks at games. At PNC Park, there is a large group of ballhawks, many who I did know, and many more that I did not know. There are a lot of older ballhawks that aren't on social media, like Jim Saylor who talked with me and told me a lot of tips and stories over the weekend. One of my favorite tips of his went like this:
Jim: If you see a home run land in an empty section, go and get it. Say you didn't know that you weren't supposed to go in. And you know what you do if you see another home run go in that section?
Me: Not go in?
Jim: No, go in! Because at that point, even if you get kicked out, you'll have gone home with two home run balls!
He was very entertaining, and he told me how a home run ball is the best kind of ball you can get, so going home with two is a complete day. He was a lot of help and complimented me later that weekend saying that I have good hands and never drop anything. Meanwhile, as Pirates batting practice came to a close, I still didn't have a baseball. That was probably due to the fact that I was completely decked out head-to-toe in Mets gear. I thought maybe I should've put on my Pirates giveaway shirt, but I'm not really for changing shirts honestly. I don't mind if others do it, I'm just too big a fan of the Mets to put on any other teams shirt.
As the Pirates relievers who were shagging baseballs cleared out, I noticed that a ball or two were leftover on the grass in Left Field. Josh Satin was walking around the area and picked up both baseballs and threw one to me while I was in the left field corner (Section 133) near the foul pole. The rest of the park had opened up, and the Pittsburgh ballhawks were off to right field already.
A few minutes later while I was in Left Field getting ready for some BP homers, a ball was hit down the left field line and Mets bullpen coach Ricky Bones stood near the wall with the ball in front of a group of Pirates fans. I came over and he jokingly said "Hmmm… I wonder who I'm gonna give it to?" And handed me my second ball of the day, while I was still in section 133. After that, I figured I wouldn't be able to get another ball in Left Field because the players might recognize me, plus in the bleachers closer to Center Field, the Mets pitchers weren't tossing much into the crowd.
So I went on to the Right Center Field bleachers where there were much more pitchers shagging fly balls, including Jeremy Hefner. I stationed myself in the front row of section 140, not too close to younger people or other Mets fans. Then a ball came soaring toward me that I thought would be mine. I noticed it would fall short but definitely thought it would clear the fence on a bounce. Instead, it hit the warning track, which was wet because of rain, and sort of died and bounced off the wall about a foot under my glove.  Hefner turned around and walked toward the wall where he picked up the ball and tossed it up to me. Jeremy Hefner is a real nice guy who often acknowledges fans and gives a lot of balls to the crowd. He gave me a ball in Philadelphia, and now gave me one across the state in Pittsburgh only weeks later.
I then moved over a section to where guys like Zack Wheeler, Dillon Gee and Matt Harvey were shagging fly balls. A few toss ups came to Mets fans near me. But then a ball was lined to the group shagging in the outfield, and Zack Wheeler (who had just been called up recently) turned around and lobbed the ball up to me for my fourth ball of the day. On that note, I had just broken my single game record of three balls that I got while at Citizens Bank Park, plus Zack Wheeler is probably the best player (or up-and-coming player) to give me a ball. I figured that I was done with getting baseballs in the right center field area, so I headed to the 21 foot fence in right field.
Relievers David Aardsma, LaTroy Hawkins, and bullpen catcher Dave Racaniello were stationed under it and snagging baseballs. While I was up there I met a man who from Illinois (with his son) who was on a little ballpark roadtrip and would be headed up to Progressive Field the next day. We had a nice chat and he got the attention of David Aardsma by asking him if he knew "______," who was apparently one of Aardsma's in-laws. Aardsma responded that he did in fact know "______." I'm not sure if he thought I was his son because we were talking with eachother, but when a ball was right under the right field wall, he tossed up a ball so I would have to reach over and catch it, to the simultaneous "ohhhhs" of people in the stands.
I bobbled the ball a little bit because of the angle I received it at, but I secured it in my glove for my fifth ball of the day. I heard a guy say, "He almost just paid the price just to get that ball." That made me a little angry inside since my feet never left the ground, it's not like I was dangling over the rail. I was leaned against the rail with my arms reaching over it. If I hadn't reached over I wouldn't have got it. And even if I was being unsafe, 21 feet is a pretty big drop, but depending on how I landed I probably wouldn't have "paid the price" for it. As I left I saw Robbie and told him how many balls I got and thanked him again for the pass. The man who I had talked to in the RF bleachers also said he was glad that I got a baseball. I love the people I meet at the ballpark.
Batting practice had ended, and I had a record 5 baseballs and was very pleased with myself. Here are the locations of the balls I got.

I headed over to my seats on the third base line when I saw SNY's sideline reporter Kevin Burkhardt preparing to tell a story on the Mets pre-game show on the first base line, so I headed over to the first base line and took some nice photos of him on air. Burkhardt has been the Mets sideline reporter since 2007 (and we haven't made the playoffs since… coincedence?) and recently just got news that he'll be announcing primetime football on Fox Sports. Much deserved.

He then came and signed autographs for a sizable crowd of adoring Mets fans, including those who were wearing shirts from The 7 Line that say "K.B. is my homeboy"

I walked back to my seats, and on my way took a picture of PNC Park from behind home plate, as sprinkles started to return to the weather forecast.

The seats I had were the best I had all weekend. You can't beat sitting on the third base line and admiring the Pittsburgh skyline as the sun sets on the North Shore.
As the game began, the seats filled up quickly. In all my years of watching the Mets face the Pirates, who would always be below .500 and had historically low attendance, I would have never thought I would attend a weekend that sold out. The Steel City was excited, and seats filled in quickly. At this particular game, no two seats could be bought together.
Eric Young, Jr. started the game off with a single to Center Field. Speed kills, and the Pirates made sure to hold him at first base with Daniel Murphy at the plate.
Unforunately I did not take many more pictures on my phone as I needed to conserve its battery. But a very exciting game was about to take place. After Daniel Murphy flew out to Starling Marte, David Wright came up to the plate to a sea of boos from the Pirates fans.
This was because David Wright did not initially pick Pedro Alvarez in the Home Run Derby, and Alvarez was not selected until after Carlos Gonzalez got injured and needed a replacement. The booing was ridiculous, it made a lot of these fans seem uneducated (I mean a lot had just hopped on the bandwagon.) David Wright could have easily picked Domonic Brown for the Home Run Derby, so I don't understand why Pirates fans felt so entitled to boo Wright, who is not a player that normally gets booed.
The situation didn't get better in the next inning when Jeremy Hefner let up a two-run homer to El Toro himself, Pedro Alvarez. I wasn't watching on TV, obviously, but I could already imagine that all cameras were pointed to David Wright when Alvarez rounded third.

The game went surprisingly quick as both offenses were getting shut down quickly, until the top of the sixth inning when David Wright answered the boos of Bucs fans with a bloop single of his own that scored speedster Eric Young, Jr. In the next inning, Kirk Nieuwenhuis tied the ball game with a home run that carried to right-center field, where Zack Wheeler had given me a ball earlier.
In the bottom of the ninth, Starling Marte led off the inning with a double to left field. On a sacrifice bunt, he would go to third, meaning the Pirates had the tying run on with one out. The odds were against the Mets and my fingers were crossed. Andrew McCutchen was intentionally walked by Scott Rice to face Pedro Alvarez, who was a threat at the plate in his own right. But he struck out swinging as McCutchen went to second base, and Greg Burke came into the game. Russell Martin came up to the plate and was walked by Greg Burke. Though it added the force play, I wished that Burke would have retired a struggling hitter like Martin. Luckily for me, Gaby Sanchez grounded out to get the Mets out of the jam.
In the top of the tenth, the Mets got runners on first and second but were unable to drive them in. Going into the eleventh inning, the Pirates played this scene on the scoreboard from Pirates of the Carribean 3. It even gave me chills as a Mets fan. The Buccos fans were waving their Jolly Roger flags back and forth and screaming "Hoist the Colors!" The best part was when the crowd reacts to "The winds on our side boys, that's all we need!" Watch for yourself.

The Mets bullpen was being spent and the only available reliever was Gonzalez Germen, who had yet to make an appearance and had an ERA of over 5.00 in AAA Las Vegas. The Mets were living and dying with Germen in the bottom of the eleventh. I was nervous for him as he would be facing McCutchen and Alvarez as his first two batters in the Majors. Germen was a bit wild and walked McCutchen. But in the next at bat, he made El Toro look silly as he struck out swinging. McCutchen would once again advance to second. Russell Martin was again intentionally walked, and Gaby Sanchez hacked against a changeup from Germen that he was way ahead of.
Then Jordy Mercer came up to the plate. I'd seen him play when the Mets faced him and knew he was a pretty weak hitter and was on the Pirates bench for the most part. I thought that Germen had a good chance of getting out of the inning with him up. He delivered a first pitch strike, and then a ball that was high. Mercer then got a walk-off that was so weak that only Jordy Mercer could hit it.

I felt like a Yankees fan after losing the '01 World Series. I swear I didn't say a word going back to the hotel room. It was an awkward elevator ride up to my room, filled with Mets and Pirates fans alike. That loss was soooo Mets. But there were still two days ahead to see more of PNC Park, to collect more baseballs, and to see the Mets win a ballgame! Hoist the colors!